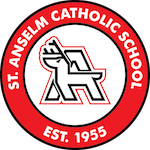 Academic Enrichment
Art
The Art Program uses a variety of media that is age appropriate for 1st through 8th grade. Teaching color basics and mixing in lower elementary through sculpting in eighth grade helps to encourage as well as capture and captivate the individual student's interest. Student work is displayed throughout the school year outside the art room. Classes are once a week for 50 minutes. All students have work displayed at the annual Christmas Program and Open House during Catholic Schools Week.
Computer
All of the computers at St. Anselm Catholic School are networked and have safe and protected internet access. In addition to the lab, each classroom has at least one computer with internet access. Classroom computer usage is defined by instructors to best support classroom instructional and communication goals. Classes are once a week for 50 minutes. Because we have a continuous program with each class, we are able to accomplish educational, fun and useful computer skills for each grade level.
Grades K – 2: We get to know the parts of a computer – like the monitor, mouse and keyboard. We use programs that introduce basic computer skills like the Jumpstart series, ABC's and Thinking Things. These programs help to reinforce mouse and keyboarding skills along with critical thinking skills.
Grades 3 – 5: We start to focus on keyboarding skills and techniques. We practice typing on Type to Learn. We also start to use word processing programs and drawing techniques. KidPix, KidWorks Deluxe, and Microsoft Word are a few of the programs we use.
Grades 6 – 8: We concentrate quite heavily on keyboarding in 6th and 7th grades. Typing is an essential part of the Junior High level computer curriculum. We also use Word, Excel, and PowerPoint and Internet Explorer. Students type research papers and internet scavenger hunts. They research topics and then create PowerPoint presentations that they share with the class.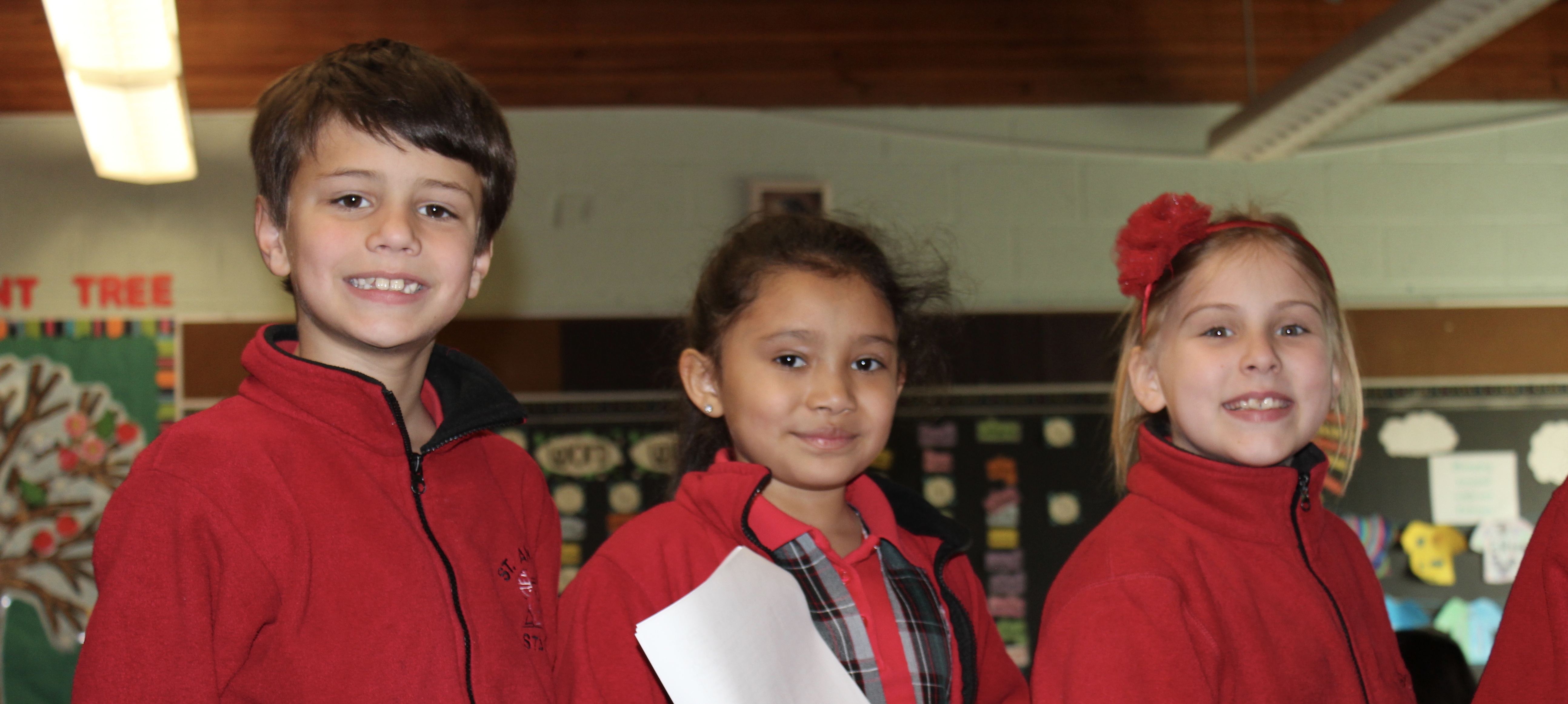 Library
Students from Kindergarten to Eighth Grade attend Library classes on a regular basis.  The Library program strives to:
Inspire a love of books and reading
Encourage reading for information and enjoyment
Expose students to a variety of reading materials and authors
Reinforce responsible use of library materials
Increase knowledge of library science
Improve research skills
Develop effective study skills
Students will:
Listen to books, poems and magazine articles read aloud by the teacher, students and guests
Be given opportunities to discuss books with their peers
Complete research activities using library resources
Efficiently utilize reference materials in the library
Music
Music is introduced to our students in a variety of ways. The students will learn to respond to music spiritually, aesthetically, intellectually and emotionally and will learn to use music to enrich their personal life.
Music education must focus on teaching the whole person…..and especially the "spirit" of the student.
Music education must improve cultural awareness and understanding.
Students will have performance opportunities within the music program.
Music Education will assist students in developing poise, self-esteem and stage presence.
Students will begin learning a music vocabulary in the primary grades and use it throughout their schooling.
Spanish
Spanish classes for  Kindergarten – 8th Grade provide an introduction to the Spanish language and Hispanic culture. Students focus on learning Spanish vocabulary, grammatical structures and conversational phrases. Spanish is an academic class. The students are responsible for homework, quizzes, tests and class participation and grades are based on their performance and progress. This introduction creates a foundation upon which the students can further build Spanish speaking skills throughout their secondary and college educational careers.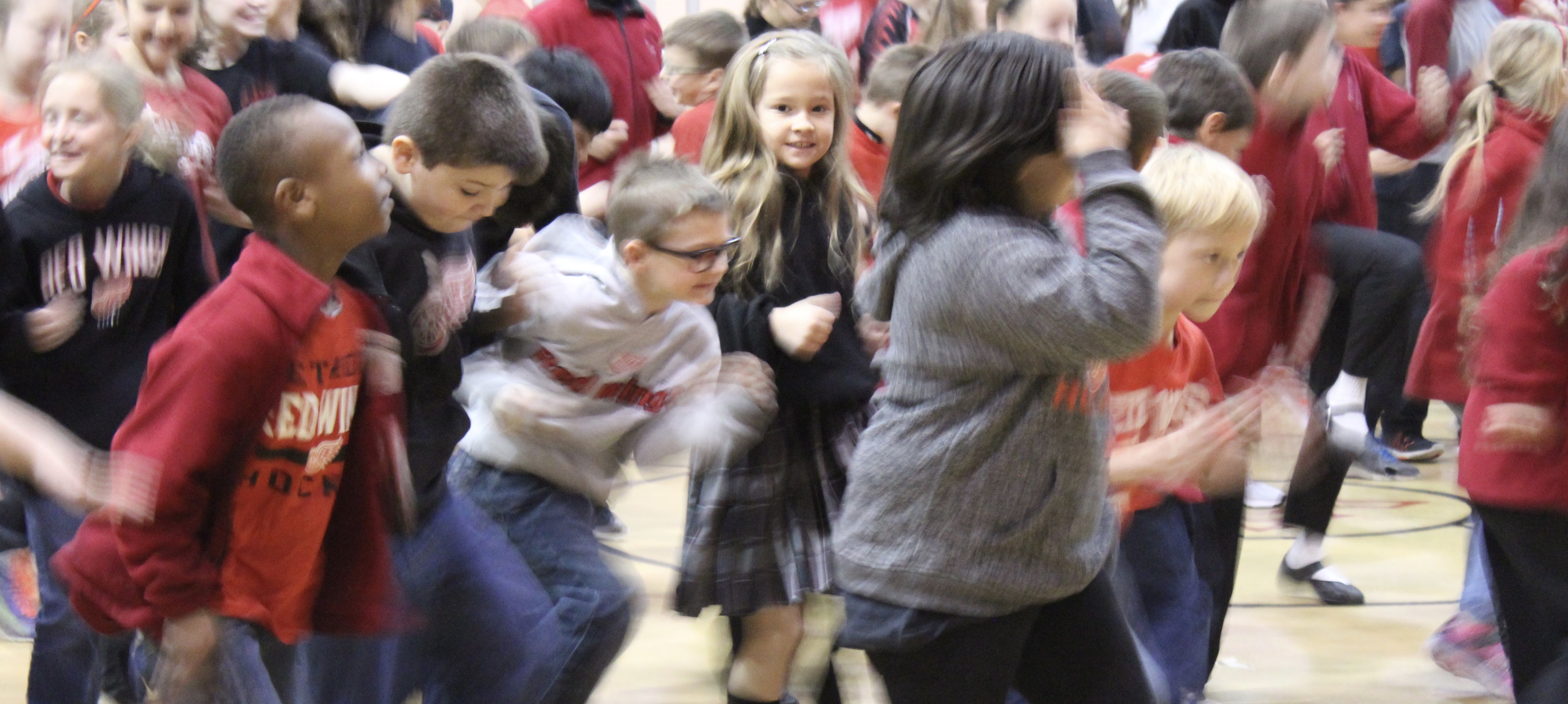 Kindergarten – 2nd Grade
Vigorous games, movement exploration, relays, fundamental skill development, and basic tumbling skills.
Objectives:
Develop and maintain an appropriate level of fitness
Acquire useful physical skills
Practice safety skills and habits
Develop desirable social skills
Affirm the importance of heart rate/exercise
3rd and 4th Grade
Structured play activities with the emphasis on group/team building through the use of lead-up games, sports, tumbling, relays and physical fitness training and testing.
Objectives:
Develop a healthy spirit of competition
Learn leadership skills with emphasis on cooperation and communication
Create an atmosphere of respect for self and others
Learn the value of "lifetime fitness"
5th and 6th Grade
A continuation of leadership building and team participation with emphasis on individual talents and skills through the use of relays, team and individual sports.
Objectives:
Develop a healthy spirit of competition
Learn leadership skills with emphasis on cooperation and communication
Create an atmosphere of respect for self and others
Learn the value of "lifetime fitness"
7th and 8th Grade
Introduction to "Lifetime Sports" with emphasis on lifetime fitness through the use of field trips, lectures. etc.
Objectives:
To have FUN and appreciate their own uniqueness
America & Me Contest
AmVets Americanism Essay Contest
Aquinas Academic Olympics
Catechism Bowl
Computer Lab
Disabled American Veterans Poster Contest
Foreign Langage
Geography Bee
Honor Roll
K of C Essay Contest
K of C Spelling Bee
Music and Art Programs
National Junior Honors Society
Presidential Education Award
Rapid Readers
Reading and Math Specialists
Science Fair
Student Council
Tutoring Club'
World Math Day
You Be the Chemist
©2016 St. Anselm Catholic School
©2016 St. Anselm Catholic School
313-563-3430 | office@saintanselmschool.org