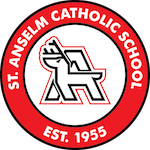 Administration, Faculty and Staff
Rev. Monsignor James A. Moloney | P.A., Pastor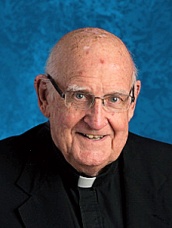 313-565-4808

Mrs. Angela Kraetke | Principal
Greetings to our community, and to our visitors! Thank you for visiting our website and checking out what it means to be a STAG! My name is Angela Kraetke and this is my fifth year as the principal at St. Anselm Catholic Elementary School. I am honored to share some personal and educational history with you.
I grew up here in Dearborn Heights. Catholic education is of the utmost importance to me. I attended Divine Child Catholic Elementary and High Schools. After high school, I went on to Madonna University where I earned my Bachelors of Arts degree in English and Sociology, and my secondary teaching certificate. After graduation, I began teaching at my alma mater- Divine Child Catholic High School. I taught all levels of English, including Honors and AP courses for nine years, from 2005 to 2014. I also organized and developed the curriculum for the English summer skills program that is still used today, and taught various Virtual Falcon (online learning) courses. In addition to teaching and administration, I have experience with the National Honor Society, the Junior National Honor Society, Red Cross, Spirit Club, recruitment, open houses, and accreditation teams/plans.
While teaching at DCHS, I went back to Madonna University to study Administration. I obtained my Master's degree in Educational Leadership in May 2012.
I love sports and extra-curricular activities. From 2001-2014, I was a DCES and DCHS cheerleading coach. And, just recently, in May 2018, I decided to head back to Divine Child to coach cheerleading. I am happy to report that I am not only coaching Divine Child athletes but St. Anselm and St. Sebastian athletes, too. We have combined to form one, large, successful program in Dearborn/Dearborn Heights.
I currently live in Canton with my husband of eleven years, Jonathan, our daughter, Kaylee, who was born in June of 2015, and our two dogs, Sydney and Remi. We are St. Anselm parishioners and Kaylee is a STAG preschooler this year!

We are constantly improving at St. Anselm. Our school is thriving! While at SAS, your student will enjoy one on one attention in small classes, while experiencing our various CYO sports programs, multiple clubs, and in-school and after-school opportunities. We have an updated facility, brand new technology including Smart TVs, IPADs, SMART and NOW boards, and an updated computer lab. Our teachers are experienced and dedicated. Over half of our staff holds Masters Degrees or higher in education and/or specific, core subjects.
I invite you to check out St. Anselm Catholic School. You will find that we can provide your student(s) a well-rounded, valuable education. I look forward to great success this year, and for many to come! It's truly AWESOME to be a STAG!
Mrs. Karen Cameron | Assistant Principal and Middle School Current Events
My name is Karen Cameron, and I am so excited to work with the children, teachers and families of St. Anselm.  I have taught Kindergarten through college in Catholic and public schools.  I received Bachelor's degrees from UM and Madonna and Master's degrees from CMU and Marygrove.  Having attended St. Cunegunda Elementary School and St. Alphonsus High School, I value the gifts that a Catholic education provides.  I am also certified as an advanced catechist, youth minister and director of religious education from Sacred Heart Major Seminary.
My husband, Mike and I have been married for over 32 years and have three beautiful daughters.  We enjoy spending time with our girls and are thrilled to announce the birth of our first grandchild, Catherine Marie!
Mr. Benn Baker | CYO Athletic Director
Mrs. Patty Delaney | Administrative Assistant, Athletics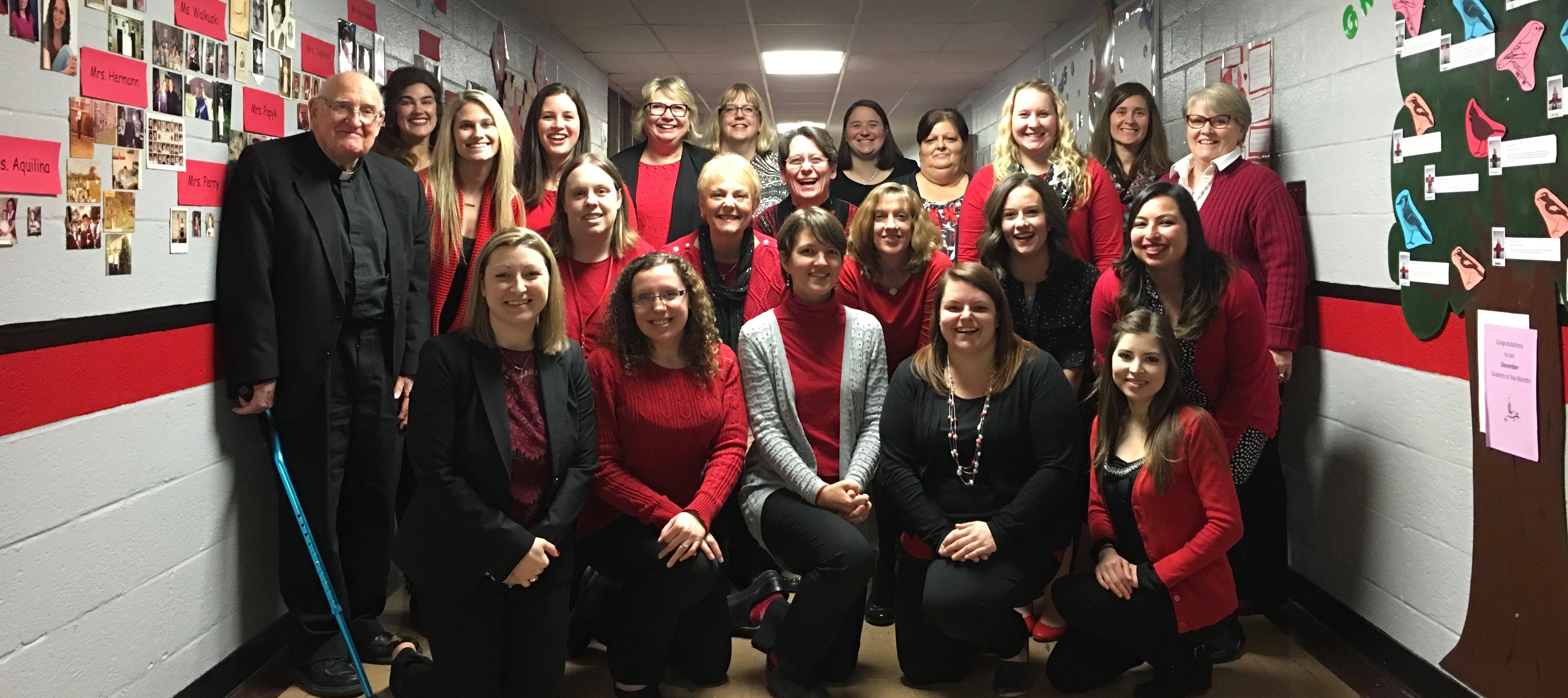 Ms. Rubi Rodriguez | Preschool
Hello! My name is Rubi Rodriguez, and this is my sixth year as the preschool teacher at St. Anselm! I'm thrilled to be part of such a fantastic school and love being part of the Stag family. Go Stags!
I attended Fordson High School in Dearborn, MI, and graduated from Wayne State University where I recently finished an endorsement in special education in early childhood. I attend workshops to sharpen my skills and to learn new teaching techniques. My priority is to help our preschoolers get excited about school and learning.
Our classroom curriculum is diverse and specializes in phonics, math, music, foreign Language and even culinary arts! Our preschool students attend mass every Friday, visit our school library where they check out books, and participate in multiple field trips like the Detroit Zoo! In addition to my position as preschool teacher, I also teach preschool Sunday school here at St. Anselm.
Mrs. Jeannine Herdon, my co-teacher, and I will be working together to educate our three and four-year-old preschool students! We are both ecstatic about our growing program, and we can't wait to meet you!
In my spare time, I enjoy shopping at Target and drinking coffee. This year, I will be attending many Detroit Lions games as I just became a season ticket holder! GOOOO LIONSSS!
Mrs. Jeannine Herdon | Preschool
Hi! My name is Jeannine Herdon and I am really looking forward to co-teaching with Ms. Rubi
Rodriguez this year in the preschool classroom at St. Anselm. With the closing of St. Mary of
Wayne Catholic School, I was very excited when this opportunity opened up to me. I was the
Pre-K teacher at St. Mary and truly love my journey in the Catholic school environment. I had
the opportunity to teach young children in a loving, nurturing environment; while enriching their
faith, as well as my own. Prior to teaching at St. Mary, I worked at Stottlemyer Early Childhood
Center in the GSRP classroom.
I am a 1992 graduate of Central Michigan University, where I received my B.A.A. in Child
Development, with a minor in Communication Disorders. I have continued taking professional
development courses and online classes; as well as attended many early childhood workshops.
I'm currently finishing my Catechist Training in the Archdiocese of Detroit.
My husband Jim and I have been married for 24 years, and we have four sons. Jimmy is a
senior at Olivet College, Liam is a freshman at Central Michigan, Gavin is a senior at Wayne
Memorial, and Aidan is a sophomore at Wayne Memorial. In our free time, when we aren't
spending many hours watching our sons play soccer, we enjoy relaxing and spending time with
our family and friends.
I am really looking forward to being a part of the St. Anselm Family, and I am excited to get to
know all of our families and students. Preschool education is a very valuable time in a child's
life. Ms. Rodriguez and I will make it a special journey for you and your child.
Mrs. Bree Pena | Preschool
Hello! My name is Bree Pena and this will be my first year as a preschool aide for the 2018-2019 school year. I am so excited to start this new journey and continue to be a part of the Stag Family!
Attending Catholic schools have always been a part of my life. I went to Most Holy Trinity in Detroit for PK-6, St. Anselm for 7th and 8th grade, and then I attended Divine Child High School. After high school, I went to Schoolcraft College in Livonia where I am currently working on an Associate's degree in Early Childhood Education. I cannot wait to put my knowledge and skills to the test this year!
Outside of St. Anselm, I am an assistant cheerleading coach at Divine Child Elementary School. My cheer experience goes all the way back to 7th grade, here at St. Anselm. I continued to cheer until 10th grade at Divine Child and started coaching alongside Mrs. Kraetke in 2012! Cheerleading is a huge part of my life.
Along with cheerleading, I love cheering on the Michigan Wolverines and Detroit Tigers and Red Wings. In my spare time, I love spending time with my friends and family, listening to music and being crafty!
Go Stags!
Mrs. Karen Kliber | Kindergarten
I am blessed to have a 40 + year history at St. Anselm School and Parish. I came to the school as a student teacher while attending University of Detroit Mercy. I completed my education with a Bachelor of Arts degree in English and was hired for the following fall. I taught Fifth Grade until my son was born and after that I became the "in house sub" for the next 17 years. My son was in the "pilot" program for the Kindergarten here the same year my daughter was born. St. Anselm became home for all of the Klibers.
My daughter's Kindergarten class was the first to be upstairs in what I fondly call "the penthouse". Little did I know that while I was being a Mommy Helper, a Room Mom and Chairperson for many school activities that I would be eventually "moving in" as the Kindergarten teacher in 1988. I like to boast that my children received a tremendous education at St. Anselm that prepared each of them for their years at U of D Jesuit High and Ladywood High School. They truly appreciated their "great beginnings" at St. Anselm. This school has been my passion, as is my love for the little ones of the school.
In 1991, I asked our principal , Sr.Mary Ann Thue and Msgr. Moloney if they would consider opening a pre-school program to ready the children for the challenges of Kindergarten. With their blessing, that became my project over the next year in addition to my responsibilities as the Kindergarten teacher. I developed the program from the ground up and it was launched the following fall. I was fortunate enough to be able to teach both classes since our Kindergarten was only a half day program. I loved the experience of being with the children for two years and watching them grow and mature in the academic world.
Over the years I have taught many of the parents who now send their children to St. Anselm. I have a "Wall of Fame" in my classroom where I can look at all of "my kids" everyday. Twenty six years of Kindergarten graduates! Now, some of these graduates have become my "Partners in Education" with their children.
I partake in classes at Madonna University and Professional Development seminars because there is always something new to learn. Yes, older teachers can learn new tricks! And, I also learn many important lessons from my young students. Teacher, from your students you will be taught!
I have yet another passion that I share with students on the other end of the age spectrum. For 26 years I have taught in the parish Faith Formation Program It is my privilege to prepare 8th grade public school students to receive the Sacrament of Confirmation. The dynamics of each class is different yet it is always a joy for me to be in the faith sharing role.
The loves of my life, in addition to my son, Matt and daughter, Amy, are my four beautiful grandchildren. Unfortunately, they all live out of state so my time with them is limited. But, when I do have time off I am either Ohio or California bound!
Mrs. Jessica Eddy | 1st Grade
Hello, my name is Jessica Eddy and I am the first grade teacher! I am so honored to be part of St. Anselm's family. This is my fifth year teaching here, and I am sincerely blessed to be involved in such a loving community. I am a product of Catholic schools, having attended Our Lady of Good Counsel School while growing up. That being said, teaching in a Catholic school and sharing my faith is very important to me. I have earned my Catechist certification and became a Eucharistic Minister.
I graduated from Eastern Michigan University with Honors Cum Laude. I double majored in Elementary Education and Reading. During college, I was highly involved in activities that had to do with Reading, such as conferences and extracurricular clubs. 
Each year in my classroom, I establish a community where each child feels welcome and knows his/her worth in our class. We are truly a family. ☺ As mentioned above, reading is very important to me, and I give my students time to read every day. My passion for reading makes my students eager to read—- usually when the time is up, they beg me to let them read longer!
In my spare time, I enjoy spending time with my husband Eric, our cat Lily, and our dog Bailee. I also love to spend time with the rest of my family. Some of my hobbies include reading, cooking, listening to music, and scrapbooking.
Mrs. Jennifer Norlock | 2nd Grade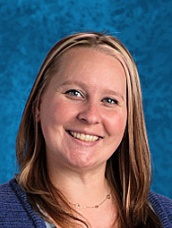 Welcome to the wonderful world of second grade!
My name is Mrs. Jennifer Norlock, and this is my ninth year at St. Anselm and second year teaching second grade! I attended Kindergarten-eighth grade here. I truly value the excellent academics and high standards at St. Anselm.
I continued my Catholic education at Ladywood High School. Then, I attended Schoolcraft College in Livonia and received an Associate's Degree. After my time at Schoolcraft, I finished up my degree at Wayne State University where I received a Bachelor's of Art in Elementary Education. When I am not teaching, I love camping, swimming, and spending time with family and friends.
I invite you to check out my webpage where you will find information on the daily, weekly, and monthly activities of second grade!
Mrs. Michele Sophiea | 3rd Grade
Hello! My name is Mrs. Michele Sophiea and this is my eighth year as a member of the Stag family.
I am thrilled to be a part of this school and am looking forward to an exciting year. I am a graduate of Madonna University where I received my Bachelor of Arts in History and my teaching certificate. This is my 24th year teaching and 12 of those years were spent teaching at St. Dunstan.
When I am away from the classroom, I love spending time with my husband, Michael, and our "children", a cat named Lucky and two parakeets named Lona and Ocean. I enjoy spending time with my five nieces and one nephew. I also enjoy reading mysteries, going for long walks and anything to do with penguins. Oh, I am a HUGE Tiger fan!! Go Tigers!!!
Ms. Shelley Popiel | 4th Grade
Hello everyone! My name is Shelley Popiel and I am the fourth grade teacher for the 2018-2019 school year.
I attended St. Michael in Livonia K-8 grades then went onto Divine Child High School. I have a deep respect for a Catholic education and being able to teach in a Catholic environment is something that means a lot to me. After high school, I attended the University of Toledo in Ohio where I received my Bachelor's Degree in Elementary Education. Right after I graduated, I worked in Monroe Public Schools as an Intervention Specialist. I can't wait to put everything that I have learned during the last few years into good use in the classroom!
Outside of St. Anselm, I love playing and watching any type of sport. I am currently the Varsity Head Cheerleading Coach at Divine Child High School. My background with cheerleading started in 4th grade and I even cheered on the co-ed team at Toledo! It's a huge part of my life. I love spending time with my family, which mostly includes watching Michigan Football, the Tigers, or the Toledo Rockets!
I am so eager to begin this school year! GO STAGS!
Mrs. Sarah Porter | 5th-8th Grade Social Studies, 5th Grade ELA
Hi! My name is Sarah Porter and this is my second year teaching at St. Anselm! Last year I was in the three and four year old preschool room. This year I am the 5th grade ELA and Social Studies teacher as well as the sixth through eighth grade Social Studies teacher. I previously was an aide in a young 5s classroom at Independence Elementary in Clarkston and was also a building sub at Siersma Elementary in Warren.
I recently got a puppy named Kobe. I grew up in Dearborn where I attended St. Albert the Great from PK-7 grades then attended Divine Child 8th grade and High School. I graduated from The University of Michigan in 2015 and earned my Bachelor degree in Elementary Education. When I am not teaching, I love going to Michigan and Lions Football games, going to the beach, and spending time with family and friends.
I am so excited to get this year started! Go Stags!
Mrs. Kathy Hermann |6th - 8th Grade Reading
Hello!  My name is Kathy Hermann. I teach sixth, seventh, and eighth grade Literature.  Teaching is my second career and this will be my 13th year!  I spent my first 10 years at St. Raphael School, starting in second grade and then moving on to middle school.  I earned my Bachelor of Science at Madonna University and completed my teacher certification at University of Detroit-Mercy.  I am a certified catechist in the Archdiocese of Detroit.
I have been married for 32 years and have four daughters and four grandsons that keep me busy. As a family, we like to camp in our beautiful state, but have recently purchased a vacation home in Houghton Lake. We have a beautiful American Eskimo that we rescued seven years ago.  I am excited to work with the middle school students and encourage their love for reading.
Mrs. Anne Popyk | 6th - 8th Grade English
My name is Mrs. Anne Popyk and this is my twelfth year teaching at St. Anselm. I previously taught third grade at St. Cyprian Elementary School in Riverview, Michigan. Currently I teach 6th, 7th, and 8th grade English and writing.
I earned my Bachelor of Science degree from Eastern Michigan University with a major in Elementary Education Language Arts and a minor in Health. During my undergraduate program, I was a member of the Michigan Reading Association and became very interested in working with reading and differential instruction. Because of this interest, I decided to go back to Eastern Michigan University to obtain my Masters of Arts with a specialty in Reading. I graduated with honors in December of 2012. I am also a certified catechist through the Archdiocese of Detroit.
I enjoy spending my time hanging out with my husband, Marvin and our sons, Tyler and Benjamin. We spend a lot of time at the park with our dog. Petey is a border collie mix, whom we adopted in March 2011. I also enjoy watching sports, drinking coffee, and trying to cook!
Mrs. Toni Czerwinski | 5th - 8th Grade Science, 5th - 6th Grade Religion
Hello and welcome to St. Anselm Catholic School! My name is Mrs. Toni Czerwinski and I am thrilled to be joining the St. Anselm family. I am looking forward to teaching Grades 5, 6, 7, and 8 Science and Grades 5 and 6 Religion.  While this will be my 1st year at St. Anselm, it is my 31st year teaching in AOD schools…St. Stephen (New Boston), Our Lady of Mt. Carmel (Wyandotte), and St. Mary (Rockwood).
My goal is to provide a learning environment where each student will be challenged to do their best. I truly believe that joining academics and religion is an ideal setting for today's youth. It allows the students to be in a comfortable, safe place where they will be able to meet high standards in organization, content knowledge, confidence, effort, and interpersonal communication. By the end of the school year, students will have made great academic and social advancements, and I look forward to seeing all they will accomplish!
I attended St. Stephen Elementary, Gabriel Richard HS, and Michigan State University. I graduated from MSU with a Major in Elementary Education and Minors in Science and Social Studies. I also hold an Advanced Catechist degree in the AOD.
I live in Wyandotte with my husband, Jim, and our recent GVSU graduate daughter, Anne. We are members of Assumption Grotto Parish (Detroit). In my free time I enjoy watching sports, spending time at Higgins Lake, and traveling.
Ms. Nicole Allevato | 5th - 8th Grade Math, 7th - 8th Grade Religion
Hi! I'm Ms. Allevato.  This year marks my 15th year teaching at St. Anselm.  I teach fifth, sixth, seventh, and eighth grade Math as well as seventh and eighth grade Religion.
I earned my Bachelor's degree from Madonna University and a Master's degree from the University of Michigan-Dearborn. Both undergrad and graduate degrees were earned with honors.  During my undergrad program at Madonna, I was also on the soccer team where I earned Scholar All-American during my junior and senior seasons.
When I'm not at school, I enjoy playing and watching sports (particularly the Lions and the Tigers), crocheting (many of my students have hats made by me), and spending time with my nieces and nephews. I also enjoy working on logic puzzles and reading.
Mrs. Kari Guido | Art
Every child's art work is a work of ART!  
This is my mantra as art teacher here at St. Anselm. 
I've been blessed to teach art here for 11 years.  I returned last year after a brief retirement.  I will be teaching art twice weekly to students K-8.  Adding an extra day is so exciting for me!  This will give me the opportunity to incorporate more art history and theory in every students experience.
I received my education at Michigan State University.  When I'm not at St. Anselm I enjoy entertaining and decorating. I am also Mom to my two sons.  
I'm looking forward to a colorful and creative year
Mrs. Sarah Maffesoli | Computer and Technology
I am happy to be a part of the St. Anselm's family this year. Catholic schools are very near and dear to my heart. I grew up in Dearborn Heights and spent 12 years at Divine Child. After moving to Allen Park with my husband, we decided to send our children to St. Frances Cabrini. 
I received my undergraduate at Michigan State University in Early Childhood and Elementary Education. I continued on at MSU to complete my Master's degree in Curriculum and Teaching. I taught kindergarten for number of years before taking time off to raise my 4 children. I spent last year at All Saints in Canton teaching preschool and am excited to move closer to home this year. 
When not in a classroom, I love spending time watching and coaching my kids in whatever sports they are playing, camping up north and most especially, reading.
Mrs. Marcia Santostasi | Gym
Hello St. Anselm Community!
My name is Marcia (Ulanski) Santostasi and I have been the St. Anselm Physical Education Teacher since February, 2013.  I am happy to be working with the students and staff at St. Anselm!
My roots run deep in the St. Anselm Community.  My parents, Henry and Genevieve Ulanski, joined the parish in 1955.  My four older sisters, my brother, a niece and nephew, along with myself all graduated from St. Anselm.  Growing up, my family was quite active in various capacities of the church and school, and that foundation has kept me firm in my Catholic Faith.
Since St. Anselm has always been home to me, Nick and I were married here 28 years ago.  We have three children who are SAS alumni as well; Stephanie (St. Anselm '05, Divine Child '09), Steven (St. Anselm '08, Divine Child '12), and Natalie (St. Anselm '16, Divine Child class of 2020).
After graduating from St. Anselm, I attended Dearborn High School, then went on to receive my Bachelor of Science Degree in Education from Central Michigan University, with a Major in Physical Education K-12, Minor in Health Education 9-12, and All Subjects in 7 and 8th.  After graduation, I took my first teaching job at Corpus Christi Catholic School in Port Chester, New York, where I taught full time Physical Education K-8, Health Education 6-8th, and Reading 7 and 8th, along with coaching Cheerleading and working part time as an Aerobics instructor.  After four years, I returned to Michigan and pursued graduate studies at Eastern Michigan University where I received a Master of Arts Degree in School Counseling K-12.
During the 3.5 years it took me to complete my Master's degree, I was a long-term substitute at St. Anselm as the 6th grade homeroom teacher and 6, 7, and 8th grade Science teacher. I also got married, worked one year at St. Sebastian as the Physical Education teacher, coached cheerleading at Garden City High School, substituted some more, had two children and became the Youth Group Leader at St. Anselm Parish, a position which I still currently am in.
I grew up in a sports friendly household, and had a mission to try and keep up with my older brother.  Throughout my school years I played basketball, volleyball, softball, cheered and ran track.  I continue to play softball to this day.   I have coached cheer at all levels, elementary through high school, both sideline and competitive, and have been an assistant coach in both softball and basketball in grades 5-9th.
When I am not teaching, coaching or playing sports, I work part time at Delta Air Lines and substitute when I can.  I also enjoy reading, watching my kids play sports, watching college Football, walking/working out, and squeezing in some traveling to visit out of town family.
One last note; after my college graduation, my parents and I went to visit my brother and sister-in-law in Dallas, Texas.  We took an overnight trip to San Antonio, Texas where we toured the River Walk, Alamo and visited "The Shrine of Our Lady of Czestochowa".  A little, elderly Polish Nun came out to talk with us and started conversing with my parents in Polish, asking about our family, etc.  She told my parents she would pray for me to become a Religious Sister. Although that wasn't to become my faith vocation exactly, I do feel her prayer intervention has guided me to teach and work within the Catholic Schools and Parish Communities that I have been a part of, and I feel blest to have had these great opportunities in my life!
My favorite word:  Persevere
My favorite quotes:  "The only place success comes before work is in the dictionary."
-Vince Lombardi
"Stand up for what is right, even if you're standing alone."
-Unknown
My favorite Prayer:  God grant me the Serenity to accept the things I cannot change,         Courage to change the things I can, and Wisdom to know the difference.
Ms. Erin Perry-Mikalauskas | Librarian
Hello; I'm Ms. Perry-Mikalauskas and I'm in my second year as the school librarian here at Saint Anselm.
Prior to working here at Saint Anselm I taught 9-12 social studies at an online school run by a local public school, and 7-12 social studies and English at a charter school. 
I graduated from the University of Michigan-Dearborn in 2007 with a Bachelor of Arts degree with a major in history and a minor in English.  I am a certified secondary teacher for social studies and English.
In 2016 I earned my Masters degree from the University of Michigan with an endorsement as a Reading Specialist for grades K-12.  I was hesitant in the beginning about the Reading Specialist program but as I moved further into the program I grew increasingly invested and interested in the field.  Now I am grateful I made the choice to move into the K-12 reading specialist field and am really enjoying the opportunity it has given me to work as the librarian here at Saint Anselm!
When I am not reading to students or organizing books I stay at home with my family.  I've been happily married since 2012 and we have 2 beautiful children: Benjamin, 5 and Amelia, 3. We also have a golden retriever named Goldielocks.  I am a Disney geek and Disney World is my favorite place to visit.  I have also been fortunate to travel extensively and have been to well over 22 countries on 3 different continents.  I enjoy watching football, particularly college football and am a huge UofM fan-Go Blue! 
If you ever have questions please feel free to reach out to me; my email address is .
Ms. Debra Junkin| Math/Learning Specialist
This will be my second year as the Mathematics Specialist at St. Anselm. I am pleased to be a part of this school community.
My educational background might be considered unusual. I completed a certificate program in Recreation Facilities Management at Algonquin College in Ottawa, and another in Labor Relations at Humber College in Toronto. I am also a licensed Refrigeration Operating Engineer. I hold Bachelor's degrees in Education (Mathematics and Language Arts) and Business Administration from Marygrove College. I earned a Master of Business Administration at Davenport University. As a result, I have worked in business, industrial refrigeration, labor relations, recreation, and education. I was involved in disabled sports for over 25 years as an official and as a track and field coach of blind athletes. Before coming to St. Anselm, I taught in remote native communities in northern Manitoba and in Dearborn Public Schools.
Outside of school, I enjoy working on electrical and plumbing projects. I play piano, guitar, banjo, and hammered dulcimer whenever I can find the time.

Mr. David Lurie | Music
Mr. Lurie has a bachelor's degree in music education from Western Michigan University. He has 16 years of experience teaching instrumental, vocal, and general music and has been on the faculty of St. Anselm School since 2004.
He is a member of the National Association for Music Education (NAfME) and the Gordon Institute of Music Learning (GIML).
He plays the trumpet with the Farmington Community Band, sings with Vanguard Voices in Dearborn, and plays recorder with Cherry Hill Consort and the Metro Detroit Recorder Society.
Ms. Janeth Zamudio | Spanish
Hola, my name is Janeth Zamudio and this is going to be my sixth school year teaching Spanish at St.Anselm! I am a native Spanish speaker and I love to share the language and culture with my wonderful students.
I graduated with a Bachelor's Degree in Elementary Education from University of Detroit Mercy in 2011. I also completed the Foreign Language Learning and Spanish program at Marygrove University for Spanish endorsement in May 2017.
As a teacher, I am always looking for ways to teach in an engaging, challenging, and fun way to keep students interested in learning. Learning a second language is an exciting opportunity that is very useful in today's diverse world. My goal is help my students succeed; I want to help them communicate in Spanish and to have an appreciation for other cultures.
When I am not teaching, I love spending time with my family, cooking healthy meals, and decorating around my home. My husband David and I have two beautiful children, Evelyn 6 and Adrian 2. Evelyn is such a sweetheart and is very thoughtful, while Adrian is full of energy and adventurous. This year my daughter Evelyn will be in 1st grade already and she is super excited for another successful school year here at St. Anselm!
If you need to contact me for any reason, please do not hesitate to do so. You can either e-mail me at jzamudio or use my weebly page at stanselmspanish.weebly.com under the contact me link and I will get back as soon as possible. Thank you very much and I look forward to another great school year!
Hasta luego (see you later!)
Mrs. Mary Boes | Lunch Room Supervisor
Ms. Emily Forcade | Latchkey Supervisor
©2016 St. Anselm Catholic School
©2016 St. Anselm Catholic School
313-563-3430 | office@saintanselmschool.org