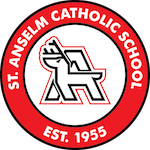 Welcome
St. Anselm Catholic School
At St. Anselm Catholic Elementary School, students excel through a wide range of academics and athletics. In addition to our core curriculum, Art, Spanish, Computer, Music and Physical Education are provided by certified teachers with expertise in each specific subject.
St. Anselm boasts strong parent involvement, and together with our faculty, continuously strives to promote a well-rounded, Catholic-centered learning environment and prepares each student with the knowledge, ambition and foundation to succeed.
Our beautiful school campus provides students with a large soccer field, two baseball diamonds, brand new playground equipment and peaceful surroundings. The school building includes a library, art room, computer lab, full gymnasium and our very own "Café Moloney" cafeteria. Each classroom is equipped with Wi-Fi, a smart TV, Blu-ray player and white boards. Each teacher has their own iPad and we house iPads for student use.
Working closely with our students, we ensure their minds stay vibrantly alive and challenged. With excellent academics, athletics and Catholic values, our students grow and are successful from Preschool to 8th grade and beyond.
Imagine what St. Anselm could do for your child!
Welcome from the Principal
Welcome and thank you for visiting our website!
St. Anselm Catholic School has been educating students in grades preschool-eighth grade for over 50 years. At St. Anselm Catholic School, your student will enjoy one on one attention in small classes, while experiencing our various CYO sports programs, multiple clubs, and in-school and after-school opportunities. We have an updated facility, brand new technology including Smart TVs, iPads, and an updated computer lab. Our teachers are experienced and dedicated. Over half of our staff holds Masters Degrees or higher in education and/or specific, core subjects.
In 2017, we celebrated two outstanding events. Our pastor, Monsignor Moloney, was interviewed by our local news station for being the oldest working pastor in the Archdiocese of Detroit. The newscast highlighted Monsignor's dedication to his parish and school, and applauded his continuous energy. Just one month later, our Middle School Science Teacher, Mrs. Sarah Jorgensen, was awarded the distinguished AOD Elementary School "Teacher of the Year" award. Mrs. Jorgensen was presented with her award by the AOD Superintendent, in front of hundreds of educators. How blessed we are!
I invite you to come check out our building, our beautifully landscaped campus, and meet our caring staff. I am positive that you will find that we can give your student(s) the best education here at St. Anselm Catholic School.
With Christ's Blessings,
Mrs. Angela Kraetke
Principal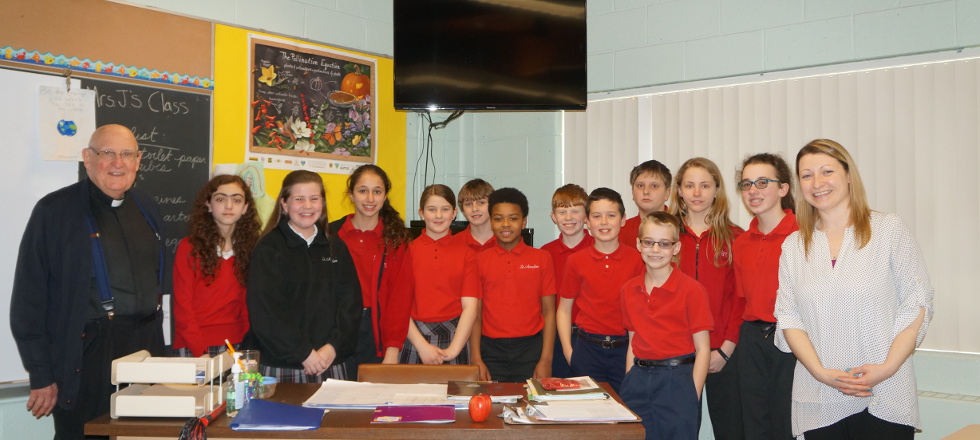 Educational Panel
The Educational Panel (serving as a School Board) meets monthly. Notice of meetings is published in the "School Scope" and parents are welcome to attend. Parents who wish to present issues for discussion by the panel must arrange this with the panel president at least 7 days prior to the meeting. Minutes of this meeting are posted on the school bulletin board.
2017 – 2018 Board Members
Educational Panel President:
Members at Large:
Monsignor James Moloney, Pastor
Mrs. Angela Kraetke, Principal
Ms. Chrystie Cane
Mrs. Brenda Clark
Mr. Gary Nosis
Mrs. Christine Geoghegan
Mrs. Maryann Walkuski
Parent Community Group
The St. Anselm Parent Community Group (PC) sponsors various activities for students throughout the school year. Many of these activities provide parents with an opportunity to fulfill their school service hours (excluding fair hours). A tentative schedule of events is published in the Fall.
Parent Community Group annual dues of $10.00, which are not included in tuition, are due with the first tuition payment.
Meetings are usually held on the first Monday of every other month, starting in September, at 7:30 p.m. in the Library. All parents are invited and encouraged to attend! Join us to discuss and coordinate upcoming events for our students.
Shandra Fish
PC President
©2016 St. Anselm Catholic School
©2016 St. Anselm Catholic School
313-563-3430 | office@saintanselmschool.org